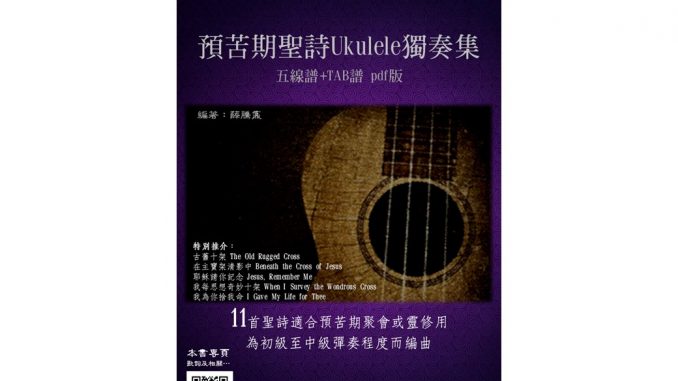 Ukulele Hymns Solo Album for Lent
透過Ukulele音樂和聖詩歌詞,帶你來到主前默想禱告…
pieces used in Lent and for spiritual formation
01 【耶穌請你記念 / Jesus, Remember Me】
詩集:頌主聖詩,138
耶穌,請你記念,在你得國降臨的時候。
耶穌,求你記念,在你得國降臨時候。
Jesus, remember me when you come into your king~dom. Jesus,
remember me when you come into your kingdom.
02【主在曠野四十天 / Forty Days and Forty Nights】
詩集:頌主聖詩,131
1.主在曠野四十天,祈求、禁食、心誠虔,
雖受惡魔多試探,寸心清潔,始終堅。
2.晝受太陽炎熱光,夜蒙清露抱寒涼,
山鳥為鄰,獸為伴,石頭為枕,地為床。
3.我當隨主分其憂,屬世歡樂不復求,
禁食、祈禱,常從主,願共痛苦,願共愁。
4.倘若撒但試探我,傷我靈魂,害我身,
因主曾勝千萬敵,我今靠主無憂驚。
5.如此獲得真安寧,主賜快樂滿我心,
光明天使來侍候,不憂飢渴,不憂貧。
6.慈愛救主,保護我,抱我時常近主懷;
隨主死亡,隨主醒,永與復活主同在
1.Forty days and forty nights
Thou wast fasting in the wild;
Forty days and forty nights
Tempted, and yet undefiled.
2.Sunbeams scorching all the day;
Chilly dew-drops nightly shed;
Prowling beasts about Thy way;
Stones Thy pillow; earth Thy bed.
3.Should not we Thy sorrow share
And from worldly joys abstain,
Fasting with unceasing prayer,
Strong with Thee to suffer pain?
4.Then if Satan on us press,
Jesus, Savior, hear our call!
Victor in the wilderness,
Grant we may not faint nor fall!
5.So shall we have peace divine:
Holier gladness ours shall be;
Round us, too, shall angels shine,
Such as ministered to Thee.
6. Keep, O keep us, Savior dear,
Ever constant by Thy side;
That with Thee we may appear
At the eternal Eastertide.
03 【十字寶架,我所矜誇 / In the Cross of Christ I Glory】
詩集:頌主聖詩,136
1.十字寶架,我~所矜誇,不與古蹟同變化,
舊約、新約一~~切~記載 皆證寶架極偉大。
2. 每當在世遭~遇艱辛,使我失望心多驚,
因主寶架,永~~不~離我,總有快樂,心安寧。
3.每當福日照~我路上,使我享有愛與光,
加上寶架榮~~耀~光輝,便覺此福更輝煌。
4.人間禍福、憂~愁、歡欣,因主寶架更成聖;
此中平安何~~可~言喻!歡樂永遠無止境。
5. 十字寶架,我所~矜誇,不與古蹟同變化;
舊約、新約一~~切~記載,皆證寶架極偉大。
1. In the cross of Christ~ I glory,
Tow'ring o'er the wrecks of time;
All the light of sa~~cred~ story
Gathers round its head sublime.
2.When the woes of life~ o'ertake me,
Hopes deceive, and fears annoy,
Never shall the cross~~ for~sake me,
Lo! it glows with peace and joy.
3.When the sun of bliss~ is beaming
Light and love upon my way,
From the cross the ra~~dian~ce streaming
Adds more luster to the day.
4.Bane and blessing, pain~ and pleasure,
By the cross are sanctified;
Peace is there that knows~~ no~ measure,
Joys that through all time abide.
From the cross the radiance streaming
Adds more luster to the day.
4.Bane and blessing, pain and pleasure,
By the cross are sanctified;
Peace is there that knows no measure,
Joys that through all time abide.
04 【主啊!我在灰塵中 /Savior,When in Dust to You】
詩集:頌主聖詩,133主啊!
1.主啊!我在灰塵中,屈膝拜主心傷痛,
虔誠承認諸般罪,淚眼不敢望上空:
因主為救世上人,嘗盡人間諸艱辛,
求從寶座施憐憫,聽我懇切祈禱聲!
2.因主降世為孩童,為人流淚,受貧窮,
因主孤單在曠野,禁食、祈禱、心悲痛,
因主遭逢試探者,忍辱負重,終得勝,
因主忍受種種苦,懇求聽我祈禱聲!
3.因主親身嘗失望,因主祈禱苦非常,
因主被釘十架上,默受羞辱與刀槍,
因主悲慘作犧牲,日頭昏暗不放光:
求從天上施憐憫,垂聽我們祈禱聲!
4.因主臨死發哀聲,因主被葬在墳塋,
因那封石與守兵,關禁不住復活神:
大能大力復活主,離世升天永生君,
求從寶座施憐憫,垂聽我們祈禱聲!
1.Savior, when in dust to you
Low we bow in homage due;
When, repentant, to the skies
Scarce we lift our weeping eyes;
Oh, by all you pains and woe
Suffered once for us below,
Bending from your throne on high,
Hear our penitential cry!
2.By your helpless infant years,
By your life of want and tears,
By your days of deep distress
In the savage wilderness,
By the dread, mysterious hour
Of the insulting tempter's power
Turn, oh, turn a favoring eye;
Hear our penitential cry!
3. By your hour of dire despair,
By your agony of prayer,
By the cross, the nail, the thorn,
Piecing spear, and torturing scorn,
By the gloom that veiled the skies
Over the dreadful sacrifice,
Listen to our humble sigh;
Hear our penitential cry!
4. By your keep expiring groan,
By the sad sepulchral stone,
By the vault whose dark abode
Held in vain the rising God,
On, from earth to heaven restored,
Mighty, reascended Lord,
Bending from your throne on high,
Hear our penitential cry!
05 【古舊十架 / The Old Rugged Cross】
詩集:頌主聖詩,137
1.古舊十架樹立,遙遠各各山頭,心是羞辱痛苦記號;
神愛子主耶穌,為世人被釘死,這十架是我最愛最寶。
2.此一古舊十架,雖為世人輕視,我卻以為奇妙寶貴;
神愛子主耶穌,捨棄天堂榮華,背此苦架走向各各他。
3.古舊十架之上,雖然滿有血跡,我卻看為聖潔美麗,
因救主在十架,為我受難捨身,我罪惡全赦免得稱義。
4.對這古舊十架,我願永效忠誠,甘受世人羞辱責罵;
救主快要再來,迎接我到天家,與祂共享榮耀永無涯。
副歌:故我愛高舉古舊十架,願將世上虛榮全放下,
   願一生背負古舊十架,到那日換榮冠在天家。
1.On a hill far away, stood an old rugged Cross
The emblem of suffering and shame
And I love that old Cross where the dearest and best
For a world of lost sinners was slain

2. Oh, that old rugged Cross so despised by the world
Has a wondrous attraction for me
For the dear Lamb of God, left His Glory above
To bear it to dark Calvary

3.In the old rugged Cross, stained with blood so divine
A wondrous beauty I see
For the dear Lamb of God, left His Glory above
To pardon and sanctify me

4. To the old rugged Cross, I will ever be true
Its shame and reproach gladly bear
Then He'll call me some day to my home far away
Where His glory forever I'll share

*So I'll cherish the old rugged Cross
Till my trophies, at last, I lay down
I will cling to the old rugged Cross
And exchange it some day for a crown*
06 【在主寶架清影中 / Beneath the Cross of Jesus】
詩集:頌主聖詩,139
1.在主寶架清影中,我願站立堅定,
好似盛暑遠行辛苦,進入磐石之蔭;
好似曠野欣逢居處,長途喜見涼亭,
到此得息肩頭重擔,養力奔赴前程。
2.在主耶穌十架下,我常抬頭仰望,
雙眼如見救主慘像,為我忍受死亡;
熱淚滿眶,寸心如裂,內心反覆思量:
思量我身不配受恩,思量主愛非常。
3.十架,十架,你蔭下,是我定居之鄉;
我有主面光輝照耀,何須別有光亮?
世界虛榮,甘願撇下,得失不再計較;
思我罪身無非辱,十架是我榮耀。
1 Beneath the cross of Jesus
I fain would take my stand,
The shadow of a mighty Rock
Within a weary land;
A home within the wilderness,
A rest upon the way,
From the burning of the noontide heat,
And the burden of the day.
2 Oh, safe and happy shelter!
Oh, refuge tried and sweet!
Oh, trysting place where heaven's love
And heaven's justice meet.
As to the holy patriarch
That wondrous dream was given,
So is my Savior by the cross
A ladder up to heaven.
3 There lies beneath its shadow,
But on the farther side,
The darkness of an awful grave
That gapes both deep and wide;
And there between us stands the cross,
Two arms outstretched to save,
Like a watchman set to guard the way
From that eternal grave.
4 Upon that cross of Jesus
Mine eye at times can see
The very dying form of One,
Who suffered there for me;
And from my smitten heart, with tears,
Two wonders I confess,
The wonders of His glorious love,
And my own worthlessness.
5 I take, O cross, thy shadow
For my abiding place;
I ask no other sunshine than
The sunshine of His face;
Content to let the world go by,
To know no gain nor loss,
My sinful self my only shame,
My glory all the cross.
07 【我每思想奇妙十架 / When I Survey the Wondrous Cross】
詩集:頌主聖詩,135
妙愛寶架 粵語版
曲:Edward Miller
粵 詞:梁孟傑
1.每當~瞻仰妙愛寶架,遙想尊主釘身~淚下﹕
傳世厚恩永穿~萬化,浮生所誇,免再~~牽掛﹗
2.世間~一切莫配矜誇,唯誇寶血涓涓~拋灑﹗
神聖尊君代擔~罪價;除我卑污、教我~驚詫﹗
3.疼裂~心肺、劇痛雙臂;頭破、血流、聲嘶~力憊﹗
慈愛、憂傷,何竟~匯貫?誰披荊冕,刺痛~~、遭棄?
4.我豈~匹配圖報深恩?穹蒼歸我,不足~呈陳﹗
宏愛滔天、奇恩~浩蔭﹗惟獻身心,盼您~~俯允!
1.我每~思想奇妙十架,榮光君王在上~釘死~,
從前名利今當~土渣,從前驕傲今當~~羞恥。
2.別事~求主不准我誇,但誇救主釘死~十架~;
凡所誘我一切~虛華,為主寶血我今~~撇下。
3.看從~主頭、主手、主足,愁苦、慈愛和血~交流~;
愁愛可曾如此~相連?荊棘可曾化作~~冠冕?
4.天地~萬物若歸我手,皆獻於主,報恩~尚缺~;
慈愛如此神妙~、高厚,要報必獻身魂~~一切。
1.When I~ survey the wondrous cross
On which the prince of glo~ry died~,
My richest gain I count~ but loss
And pour contempt on all~~ my pride.
2.Forbid~ it, Lord, that I should boast
Save in the death of Christ~, my god~;
All the vain things that charm~ me most,
I sacrifice them to~~ his blood.
3.See, from~ his head, his hands, his feet
Sorrow and love flow min~gled down~.
Did ever such love and sor~row meet
Or thorns compose so rich~~ a crown?
4.Were the~ whole realm of nature mine,
That were a present far~ too smal~l;
Love so amazing, so~ divine,
Demands my soul, my life~~, my all!
08 【我為你捨我命 /I Gave My Life for Thee】
詩集:頌主聖詩,132
1.我為你捨我命~~,流出我至寶血,要將你罪洗淨~~,
使你能成聖潔;我捨我命~為你,為你,你捨何事~為我?
我捨我命~為你,為你,你捨何事~為我?
2.我棄我父明宮~~,並那榮光寶座,來此暗世當中~~,
憂愁患難相隨;我棄諸福~為你,為你,你棄何福~為我?
我棄諸福~為你,為你,你棄何福~為我?
3.我為你受多苦~~,無舌能夠這明,心受焦勞痛楚~~,
使你免受沉淪;我受多苦~為你,為你,你受何苦~為我?
我受多苦~為你,為你,你受何苦~為我?
4.我從高天下降~~,給你帶來真福,恩赦無限無量~~,
乃是完全救贖;厚恩帶來~給你,給你,你帶何物~給我?
厚恩帶來~給你,給你,你帶何物~給我?
1.I gave My life for thee,
My precious blood I shed,
That thou might'st ransomed be
And quickened from the dead.
I gave My life for thee;
What hast thou given for Me?
2. I spent long years for thee
In weariness and woe
That an eternity
Of joy thou mightest know.
I spent long years for thee;
Hast thou spent one for Me?
3.My Father's home of light,
My rainbow-circled throne,
I left for earthly night,
For wanderings sad and lone.
I left it all for thee;
Hast thou left aught for Me?
4. I suffered much for thee,
More than My tongue may tell,
Of bitterest agony,
To rescue thee from hell.
I suffered much for thee;
What canst thou bear for Me?
5. And I have brought to thee
Down from My home above
Salvation full and free,
My pardon and My love.
Great gifts I brought to thee;
What hast thou brought to Me?
6.Oh, let thy life be given,
Thy years for Me be spent,
World's fetters all be riven,
And joy with suffering blent!
I gave Myself for thee:
Give thou thyself to Me.
09 【我們歌頌受難君王 / We Sing the Prasie of Him who Died】
詩集:頌主聖詩,134
1.我們歌頌受難君王,祂被掛在十~字架上;
罪人嘲笑自身盼望;損益不分何其狂妄。
2. 仔細看清寶架所書,上帝是愛,何~等鮮明;
神在十架擔當眾罪;祂從高天賜下憐憫。
3.寶架神奇塗抹罪愆,疲弱心靈振~奮趨前;
幽暗時日賜人希望,一切苦杯變為甘甜。
4.軟弱之人變為剛強,下垂的手得~力打仗;
面臨墳墓毫無驚恐,死蔭幽谷重睹亮光,
5.生命膏油醫災免禍,愛的憑據,避~難佳所,
世間罪人因此歡欣,天上使者以此高歌

1.We sing the praise of Him who died,
Of Him who died up~on the cross;
The sinners' Hope let men deride,
For this we count the world but loss.
2. Inscribed upon that cross we see
In shining letters~ "God is Love."
He bears our sins upon the tree,
He brings us mercy from above.
3. The cross!–it takes our guilt away.
It holds the fainting~ spirit up,
It cheers with hope the gloomy day,
And sweetens every bitter cup.
4. It makes the coward spirit brave
And nerves the feeble~ arm for fight;
It takes all terror from the grave
And gilds the bed of death with light.
5.The balm of life, the cure of woe,
The measure and the~ pledge of love,
The sinners' refuge here below,
The angels theme in heaven above.
10 【我心傷痛因主受苦 /Ah, My Soul, Behold Your Savior】
詩集:頌主聖詩,141
1.我心傷痛因主受苦,十架底下欲哀哭;
傷口疼痛,荊棘刺頭,口舌焦渴,水血流。
主受痛苦有何用意?祂本至善至公義;
我深知道我有罪惡,應該遭受地獄火。
2. 贖罪功勞祂已成就,為我自由甘受辱;
祂願受苦使我喜樂,受死乃使我存活。
在主以外別無希望,只有地獄和滅亡;
在主以內心如白雪,沒有污穢與罪孽。
3. 救主知我毫無能力,甘流寶血將我洗;
在主傷痕我有永生,在主裡面有權能。
我今在主腳前俯伏,默想主為我受苦;
因主被釘,因主死亡,我有永生大盼望。
1.Ah,my soul,behold your Savior,
As I grieve at Calvary;
Body broken,bruis'd and bloodied,
There He hangs in agony,
Spotless Lamb,You suffer'd greatly,
Bearing all the world's disgrace,
Would that I were more deserving .
Of the blood spill'd in my place.
2.In this saving act He suffer'd
From all sin to set me free,
Willingly submitting wholly To fulfill His destiny.
All outside His Gates of Glory
Is consumed by endless night;
All within is light eternal,
All my hope and my delight.
3.Jesus gave His blood so holly
As a priceless sacrifice,
Yet You see Your servants lowly
Just as precious in Your eyes.
Thus I ponder on Your Passion;
Ever joyful I will be;
Deep with in springs peace eternal,
Chris the Lord has died for me!
11 【聖潔主耶穌 / Ah, Holy Jesus】
詩集:頌主聖詩,140
1.聖潔主耶穌,怎會得罪人們,但竟被仇恨,
更將你來審~問?遭敵人戲弄,更被門徒否認,何等的痛心!
2.這樣對待主,是誰違背良心!哀哉,就是我,
賣主辜負宏~恩!主啊,就是我,是我將主否認,是我將主釘!
3.看哪,好牧人,願為群羊捨命;奴僕罪沉重,
神子代受極~刑;犯罪無顧忌,那知救贖恩深,幸有主關心。
4.仁慈主耶穌,為我降世受辱,為我拾性命,
擔當極大憂~愁,勇敢嘗死味,甘走十架道路,將我命救贖。
5.仁慈主耶穌,報恩我怎能夠?我惟崇拜主,
向主時常祈~求,思想主憐憫,思想主愛充足,非我配領受。
1 Ah, holy Jesus, how hast thou offended,
that we to judge thee have in hate pretend~ed?
By foes derided, by thine own rejected,
O most afflicted!
2 Who was the guilty? Who brought this upon thee?
Alas, my treason, Jesus, hath undone~ thee!
'Twas I, Lord Jesus, I it was denied thee;
I crucified thee.
3 Lo, the Good Shepherd for the sheep is offered;
the slave hath sinned, and the Son hath suf~fered.
For our atonement, while we nothing heeded,
God interceded.
4 For me, kind Jesus, was thy incarnation,
thy mortal sorrow, and thy life's obla~tion;
thy death of anguish and thy bitter passion,
for my salvation.
5 Therefore, kind Jesus, since I cannot pay thee,
I do adore thee, and will ever pray~ thee,
think on thy pity and thy love unswerving,
not my deserving.