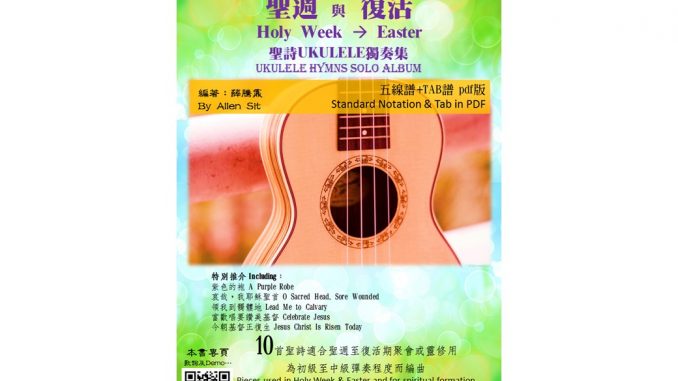 聖詩Ukulele獨奏集,提供聖詩默想和唱頌的機會 。
01 【 榮耀君王騎驢前行/ Ride On, Ride On in Majesty 】
詩集:頌主聖詩,144
1. 榮耀君王騎驢前行!沿途民眾,一片歌聲;
溫柔救主向前進行,棕枝、衣服,滿路鋪陳。

2.榮耀君王騎驢前行!卑微模樣,就義成仁;
基督得勝,從此開始,死亡敗退,罪惡消平。

3.榮耀君王騎驢前行!天上眾軍俯首定睛,
遙看救主去作犧牲,滿懷憂慮,無限傷心。

4.榮耀君王騎驢前行!末次劇烈奮鬥將臨;
天上寶座聖父關心,等候神子榮歸天城。

5.榮耀君王騎驢前行!卑微模樣就義成仁;
低頭忍受肉身苦痛,終得權柄掌管萬民。
1. Ride on, ride on, in majesty!
Hark! all the tribes hosanna cry.
0 Savior meek, pursue Thy road,
With palms and scattered garments strowed.
2. Ride on, ride on, in majesty!
In lowly pomp ride on to die.
0 Christ, Thy triumphs now begin
O'er captive death and conquered sin.
3. Ride on, ride on, in majesty!
The angel armies of the sky
Look down with sad and wondering eyes
To see the approaching Sacrifice.
4. Ride on, ride on, in majesty!
Thy last and fiercest strife is nigh;
The Father on His sapphire throne
Expects His own anointed Son.5. Ride on, ride on, in majesty!
In lowly pomp ride on to die.
Bow Thy meek head to mortal pain.
Then take, 0 Christ, Thy power and reign.
02 【 受難前夕/An Upper Room Did Our Lord Prepare 】
詩集:頌主聖詩,146
1. 主為門~徒曾預備樓房,他們在此,同心祈~禱。
今主門~徒仍相聚此~處,記念復活良朋耶~穌。
2.永恆恩~惠賜屬祂的人,主餅同吃,主杯同~飲。
世上重~擔雖把我壓~迫,主以十架把我提~升。
3.聖餐完~畢,主洗門徒腳,謙卑服事,有如聖~禮。
在主裡~面得滿足喜~樂,服事他人,效主美~德。
4.聚會完~畢,平安裡分散,聖禮不止,主愛無~限;
在父家~中,每一個住~處,祂必同在,作王作~主。
1.An upper~ room did our Lord prepare
For those He loved until the~ end
And His dis~ciple still gather~ there
To celebrate their risen~ friend
2. A lasting~ gift Jesus gave His own
To share His bread His loving~ cup
Whatever~ burdens may bow us~ down
He by His cross shall lift us~ up
3. And after~ supper He washed their feet
For service too is sacra~ment
In Him our~ joy shall be made com~plete
Sent out to serve as He was~ sent
4. No end there~ is we depart in peace
He loves beyond our utter~most
In every~ room in our Father's~ house
He will be there as Lord and~ host
03 【 耶穌十架/Cross of Jesus】
詩集:頌主聖詩,152
1. 耶穌十架,痛苦十架,基督寶~血在此流~;
完善人格,完善真神,架上受~刑為拯救。

2.萬代之王,百世之君,光繞寶~座最榮華~,
甘下凡塵,慨然就義,為我罪~愆釘十架。

3.自卑奧妙,實難思議,最高犧~牲,最大愛~;
仁慈上主體恤大眾,親受痛~苦千萬載。
1. Cross of Jesus, cross of sorrow,
Where the blood~ of Christ was shed~,
Perfect man on thee did suffer,
Perfect God~ on thee has bled!
2. Here the King of all the ages,
Throned in light~ ere worlds could be~,
Robed in mortal flesh is dying,
Crucified~ by sin for me.
3. O mysterious condescending!
O aban~donment sublime~!
Very God Himself is bearing
All the suf~ferings of time!
04 【紫色的袍 A Purple Robe】
粵語版 粵詞:凌東成
頭上荊棘,鮮血滿臉,紫色的長~~袍
羅馬兵丁,嘲笑辱罵,基督只凜然停步。
面對眾守~衛那面前,罪債替我~承受
刑罰鞭打,不堪忍受,祂只許往~前走
烈日下背負沉重十架,祂身心滿是創傷,
千般重罪為我~代償,痛苦~也願承受。
沉暗天色,悽風暗悼,(十架)上的創造~主,
榮耀之君,捨身救贖,基督經已~逝去。
為愛我捨~命到世上,為我(放棄)天上榮耀,
憐憫施恩,洗清我罪,主恩必永長~存。
1 A purple robe, a crown of thorn,
a reed in his~ right hand;
before the soldiers' spite and scorn
I see my Sa~viour stand.
2 He bears between the Roman guard
the weight of all~ our woe;
a stumbling figure bowed and scarred
I see my Sa~viour go.
3 Fast to the cro~ss's spreading span,
high in the sun~lit air,
all the unnumbered si~ns of man
I see~ my Sa~viour bear.
4 He hangs, by whom the world was made,
beneath the da~rkened sky;
the everlasting ransom paid,
I see my Sa~viour die.
5 He shares on hi~gh his Father's throne,
who once in me~rcy came;
for all his love to sinners shown
I sing my Sa~viour's Name.
05 【哀哉,我耶穌聖首/ O Sacred Head, Sore Wounded】
詩集:頌主聖詩,153
受傷的祢 (哀哉,我耶穌聖首 粵語版) 粵譯:甄燕鳴

1.受傷的祢俯聖首, 十架肩擔哀痛
被荊冠刺入前額, 面對侮辱譏諷
蒼白顏容獨對抗, 四周嘲笑戲弄
割裂身心的創傷, 奪去昨日亮光
受傷的祢 (哀哉,我耶穌聖首 粵語版) 粵譯:甄燕鳴

1.受傷的祢俯聖首, 十架肩擔哀痛
被荊冠刺入前額, 面對侮辱譏諷
蒼白顏容獨對抗, 四周嘲笑戲弄
割裂身心的創傷, 奪去昨日亮光
2.受傷的祢獨承受, 萬眾每段過犯
爲使普世得救恩, 願以性命贖還
我在降服盡懺悔, 理應身處祢位
仰望(祢手)庇護體恤, 為我賜下惠恩
3.受傷的祢被奚落, 未減一絲尊貴
讓漆黑勢力淪落, 在祢眼下枯萎
蒼白顏容獨對抗, 四周嘲笑戲弄
割裂身心的創傷, 奪去昨日亮光
4.覓不到說話言謝, 謝我恩主恩友
受傷心碎裂至死, 贖我深恩不朽
以後來承諾愛祢, 信心不再退後
獻奉(每刻)我願降服, 立志伴神右左
中文版
1. 哀哉,我耶穌聖首!傷痕血跡皆有,
戴上荊棘刺冠冕,如此凌辱甘受;
主在天上極榮顯,天地都歸掌管!
而今在世多愁苦,皆因世人罪愆。

2.哀哉,我耶穌苦像!精神全然失喪,
槍孔水血一齊流,便成衰病模樣;
主受痛苦至死亡,將眾罪奴釋放;
施恩之主,莫棄我,轉面,容我仰望。

3.哀哉,我救主受苦!全為罪人益處,
被釘十架為我死,因我作罪奴僕;
我今俯伏在主前,思想主愛無限,
求主看顧,仍施憐,賜我豐富恩典。

4.我用何辭來感謝為我捨身良友?
因主憐憫無止息,極大悲苦忍受;
求主使我永屬你,愛主之心長久,
懇求千萬莫容我忘主所受苦楚。

5.若我臨終去塵世,願主護我不離,
寶架恩光常照耀,使我惟主是依;
求主親來釋放我,助我篤信不疑;
信徒臨終藉主愛安然朝見上帝。
1. O sacred Head, now wounded,
With grief and shame weighed down,
Now scornfully surrounded
With thorns, Thine only crown.
O sacred Head, what glory,
What bliss, till now was Thine!
Yet, though despised and gory,
I joy to call Thee mine.
2. Men mock and taunt and jeer Thee,
Thou noble countenance,
Though mighty worlds shall fear Thee
And flee before Thy glance.
How art thou pale with anguish,
With sore abuse and scorn!
How doth Thy visage languish
That once was bright as morn!
3. Now from Thy cheeks has vanished
Their color, once so fair;
From Thy red lips is banished
The splendor that was there.
Grim Death, with cruel rigor,
Hath robbed Thee of Thy life;
Thus Thou has lost Thy vigor,
Thy strength, in this sad strife.
4. My burden in Thy Passion,
Lord, Thou hast borne for me,
For it was my transgression
Which brought this woe on thee.
I cast me down before Thee,
Wrath were my rightful lot;
Have mercy, I implore Thee;
Redeemer, spurn me not!
5. My Shepherd, now receive me;
My Guardian, own me Thine.
Great blessings Thou didst give me,
O Source of gifts divine!
Thy lips have often fed me
With words of truth and love,
Thy Spirit oft hath led me
To heavenly joys above.
6. Here I will stand beside Thee,
From Thee I will not part;
O Savior, do not chide me!
When breaks Thy loving heart,
When soul and body languish
In death's cold, cruel grasp,
Then, in Thy deepest anguish,
Thee in mine arms I'll clasp.
7. The joy can ne'er be spoken,
Above all joys beside,
When in Thy body broken
I thus with safety hide.
O Lord of life, desiring
Thy glory now to see,
Beside Thy cross expiring,
I'd breathe my soul to Thee.
8. What language shall I borrow
To thank Thee, dearest Friend,
For this, Thy dying sorrow,
Thy pity without end?
Oh, make me thine forever!
And should I fainting be,
Lord, let me never, never,
Outlive my love for Thee.
9. My Savior, be Thou near me
When death is at my door;
Then let Thy presence cheer me,
Forsake me nevermore!
When soul and body languish,
Oh, leave me not alone,
But take away mine anguish
By virtue of Thine own!
10. Be Thou my Consolation,
My Shield when I must die;
Remind me of Thy Passion
When my last hour draws nigh.
Mine eyes shall then behold Thee,
Upon Thy cross shall dwell,
My heart by faith enfold Thee.
Who dieth thus dies well!
06 【罪債全還清/ Jesus Paid it All 】
粵語版 粵詞:甄燕鳴
1.神用渺小軟弱人, 去彰顯救主恩,
垂~聽謙卑禱告, 祢發揮卓越大能
副
祢擺上贖價, 賜給我自由,
祢將我罪垢潔淨, 恩惠超出所有
2.神話語改變萬民, 祢手轉化革新,
移大山, 衝破萬難, 能熔掉心窩冰冷
3. 完備救恩多珍貴, 血灑於各各他,
來為我清洗污穢, 祢捨身犧牲一切
4.投在祢尊貴座前, 我身心全降服,
傳頌祢將我拯救, 我~口不息宣告

I~ hear the Savior say,
"Thy strength indeed is small;
Child of weakness, watch and pray,
Find in Me thine all in all." Refrain:
Jesus paid it all,
All to Him I owe;
Sin had left a crimson stain,
He washed it white as snow.
Fo~r nothing good have I
Whereby Thy grace to claim;
I~'ll wash my garments white
In the blood of Calv'ry's Lamb.
And~ now complete in Him,
My robe, His righteousness,
Clo~se sheltered 'neath His side,
I~ am divinely blest.
Lord~, now indeed I find
Thy pow'r, and Thine alone,
Ca~n change the *leper's spots [*leopard's]
And~ melt the heart of stone.
When~ from my dying bed
My ransomed soul shall rise,
"Jesus died my soul to save,"
Shall~ rend the vaulted skies.
And~ when before the throne
I stand in Him complete,
I~'ll lay my trophies down,
A~ll down at Jesus' feet.
07 【領我到髑髏地/ Lead Me to Calvary】
粵語版 粵詞:子粒
1.基督是王容我敬奉 仰望榮光彰顯
教我莫忘懷荊棘冕 各各他主足印
副. 毋忘為我傾灑血淚
曾懸十架擔當我罪
一生感激基督深恩
各各他主足印
2.當思己過神竟犧牲 悲泣難掩淚痕
天軍光照神安息處 各各他主足印
3.婦女墓園來膏主身 我願同獻奉神
復活大權能驅黑暗 各各他主足印
4.主捨身救我飲苦杯 盼共嘗心感恩
甘擔苦架常遵主訓 各各他主足印
1 King of my life I crown thee now —
Thine shall the glory be;
Lest I forget thy thorn-crowned brow,
Lead me to Calvary.

Refrain:
Lest I forget Gethsemane,
Lest I forget thine agony,
Lest I forget thy love for me,
Lead me to Calvary.

2 Show me the tomb where thou wast laid,
Tenderly mourned and wept;
Angels in robes of light arrayed
Guarded thee whilst thou slept. [Refrain]

3 Let me like Mary, thru the gloom,
Come with a gift to thee;
Show to me now the empty tomb —
Lead me to Calvary. [Refrain]

4 May I be willing, Lord, to bear
Daily my cross for thee;
Even thy cup of grief to share —
Thou hast borne all for me. [Refrain]
08 【今朝基督正復生/ Jesus Christ Is Risen Today】
詩集:頌主聖詩,161
1. 今朝基督正復生~,哈~~~~~利~路~亞!
凱旋聖日,眾歡欣~, 哈~~~~~利~路~亞!
基督一回十架釘, 哈~~~~~利~路~亞!
受~死~原為救萬民~,哈~~~~~~利~路~亞!

2.普世萬民齊讚揚~,哈~~~~~利~路~亞!
讚美基督天上王~,哈~~~~~利~路~亞!
十架受死,墳中葬,哈~~~~~利~路~亞!
救~贖~罪人出死亡~ ,哈~~~~~~利~路~亞!

3.因主身受重創傷~,哈~~~~~利~路~亞!
萬眾救恩乃永長~,哈~~~~~利~路~亞!
今日天上主為王, 哈~~~~~利~路~亞!
天~使~天軍共讚揚~, 哈~~~~~~利~路~亞!

4. 我眾讚美天上神~,哈~~~~~利~路~亞!
歌聲與主受共恆~, 哈~~~~~利~路~亞!
天上萬軍當同聲, 哈~~~~~利~路~亞!
讚~美~父子與聖靈~, 哈~~~~~~利~路~亞!
1. Jesus Christ is risen today~, A~~~~~lle~lui~a!
Our triumphant holy day~, A~~~~~lle~lui~a!
Who did once upon the cross, A~~~~~lle~lui~a!
Su~ffe~r to redeem our loss~. A ~~~~~ lle~lui~a!
2. Hymns of praise then let us sing~, A~~~~~lle~lui~a!
Unto Christ, our heavenly king~, A~~~~~lle~lui~a!
Who endured the cross and grave, A~~~~~lle~lui~a!
Si~nne~rs to redeem and save~. A ~~~~~ lle~lui~a!
3. But the pains which he endured~, A~~~~~lle~lui~a!
Our salvation have procured~; A~~~~~lle~lui~a!
Now above the sky he's king, A~~~~~lle~lui~a!
Whe~re the~ angels ever sing~. A ~~~~~ lle~lui~a!
4. Sing we to our God abo`ve, A~~~~~lle~lui~a!
Praise eternal as his lo~ve; A~~~~~lle~lui~a!
Praise him, all you heavenly host, A~~~~~lle~lui~a!
Fa~the~r, Son, and Holy Ghost. A ~~~~~ lle~lui~a!
09 【當歡唱要讚美基督/ Celebrate Jesus】
粵語版 粵詞:周浩輝
Verse 1
當歡唱,要讚美基督,
因他已高昇得戰勝。
當歡唱,要讚美基督,
因他已高昇得戰勝。
Chorus
讓我讚美~~,萬眾皆慶~祝,
他得勝,是永活主。
因他戰勝~~現已高~~昇。
讓我愉快讚揚~,
頌讚上帝永活全~能。
Celebrate Jesus celebrate
Celebrate Jesus celebrate
Celebrate Jesus celebrate
Celebrate Jesus celebrate

He is rise~~n He is ri~~sen
And He lives forevermore
He is rise~~n He is ri~~sen
Come on and celebra~te
The resurrection of ou~r Lord
10 【祂是主/ He is Lord】
詩集:頌主聖詩,51
粵語版 粵詞: 甄燕鳴
是救主,掌管我 ,越過死的幽谷高升的救主
萬膝當俯拜,萬口當公認 ,基督耶穌是 。
中文版
祂是主,祂是主,祂是勝過死亡又復活的主;
萬膝當跪拜,萬口當承認,耶穌基督是主。
He is Lord, He is Lord!
He is risen from the dead and he is Lord!
Ev'ry knee shall bow, ev'ry tongue confess
That Jesus Christ is Lord.